Our training location is available for you to improve your technique!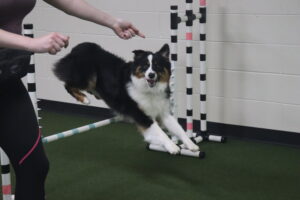 Rental of My Hero Dog Training room at Club Pet Too
My Hero Dog Training is available for meetings, and workshops.
The training room features double rubber with Great Mat flooring. The room provides temperature control year-round, thanks to air conditioning and heating.
The room may be rented by the hour or day by groups. Groups must supply proof of insurance. Participants must sign-in when using the room.
The 5,00 square foot agility room floor is a low pile turf which dogs can grip and not slip
Please call or e-mail My Hero Dog Training for availability and to sign up.
Note: The training room may not be rented for individual use.
Drop-in use of My Hero Dog Training agility field in Novi
The agility field is available for drop-in use (for current students) from the end of April through the end of October for current students.   There are no pre-set appointments and the field may need to be shared with others.  Call or email for availability.
Dogs must be able to negotiate all of the agility equipment safely. (If you are unsure of your dog's ability to do the equipment, please schedule a private lesson to assess your dog's skill level.
Participants must sign-in when using the agility yard and equipment.
Children must be supervised and are not allowed to climb on or crawl through equipment.
Stay as long as you want.  But please do not overwork your dog.
You may want to bring drinking water for both you and your dog.
For current My Hero Dog Training students, the cost is $10 for each dog.  Guests: $15
Contact us for more information!