If your dog has energy to burn, loves to run and jump, agility is the sport to try. Agility will not only burn off that excess energy, it will engage your dog mentally and because agility is a team sport, it will build a stronger bond between you and your dog. Agility is also a great confidence builder for the timid dog.
Whether your plans are to compete or just to have fun with your dog, we have created our classes to do both.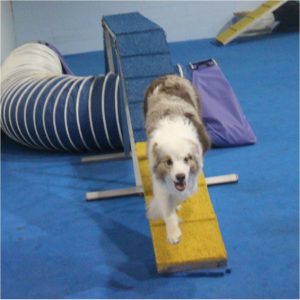 The floor at My Hero Dog Training is short artificial turf and  was made for agility training. It is thick, padded and non-skid designed with you and your dog's safety in mind.  The contact equipment (A-frame, Dog Walk, See Saw and Table) are rubberized to keep your dog from slipping and sliding.  Safety is a top concern at My Hero Dog Training!
Agility classes are not suitable for aggressive or reactive dogs. It is best for their safety and the safety of others that you schedule private lessons.
Intro to Obstacles, Intro to Agility, Agility Basics or Foundation
The place to start your agility training. These classes  "introduce" your dog to the agility equipment: Jumps; tunnels; A-frame; Dogwalk; Teeter-totter; weave poles and table are taught.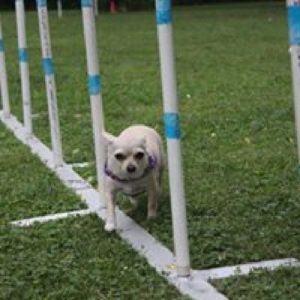 Beginner Handling
The second set of classes in our agility series. Now it is your turn to learn how to direct your dog from one obstacle to the next, so you can start running agility courses.
Prerequisite: Intro to Obstacles                                                  
Intermediate Agility
Now put what you learned in Intro to Obstacles and Handling and start running courses and games. Courses are designed to be fun and challenging. They are also planned for both you and your dog to be successful and have fun.
Prerequisite: Intro to Obstacles & Beginner Handling
Advanced/Competition
As you and your dog's skills grow, you will be running more complicated and interesting courses and games like Snooker, Gamblers, Pairs and more.
Drills and Skills
These classes are designed for the agility competitor.  Advanced skills such as distance, back approaches to jumps are taught, so you can hone your skills have tighter turns and cut seconds off your runs.
FUN-gility
This class is designed for you and your dog to have a fun time running simple exercises or course.  Your dog should be able to negotiate the jumps, tunnels, and A-frame.  Hoops and barrels may be used in this class.
Pre-requisite:  And introductory agility class.
Barrels, Hoops and Tunnels (Puppy or Adult)
There are two separate classes, one for puppies 8-16 weeks or very small dogs. The other classes for dogs of ANY age, and is great for older dogs.  No experience is required!  This class will use barrels to go around, hoops and tunnels to run through.  There is no jumping, weaving or climbing in these classes.  So, it is easy on your pup's and your older dog's joints.  This is a FUN class for all ages.